Welcome!

On behalf of the Ohio Prosecuting Attorneys Association let me welcome you to our website.  Here you will find information about the role of prosecuting attorneys and our Association.

The prosecutor's role in the criminal justice system is often misunderstood.  Ohio's 88 elected county prosecutors are committed to justice.  The prosecutors I know aren't motivated by "winning" or trying to send everyone to prison for as long as possible. They are motivated by their responsibility to enforce the law, to make their communities safe and to fairly administer justice. And fairness and justice is what matters most of all.  Prosecutors live this every day.

Part of our role is to have a voice in public policy debates affecting the criminal justice system. To that end, Ohio's prosecutors serve an important function reviewing and advocating for legislation with one goal in mind – the safety and security of our communities.

Ohio's prosecutors are active in community and civic affairs.  From speaking to school children about the dangers of drugs to serving on numerous committees and commissions, Ohio's elected prosecutors and their assistants serve in vital roles.

As legal counsel to a variety of County elected officials, offices and agencies your county prosecutor assists in ensuring efficient and responsible county government. 

I'm proud to be a prosecutor and honored to serve as President of the Ohio Prosecuting Attorneys Association.  Please take your time and look around.  Hopefully you will find information here that is educational and informative about your county prosecutor. 

Jane Hanlin
Jefferson County Prosecutor
2023 OPAA President

Ohio's Judicial System: What you should know.
Upcoming Events:
Wednesday, December 13th, Hilton Columbus at Easton (prior Annual Meeting). 3:00 Legislative, 4:00 Executive

Annual Meeting - December 14th and 15th, Hilton Columbus at Easton.
2024 Trainings
Spring Training - April 18th and 19th
Hilton Columbus at Polaris

Summer Workshop June 21st and 22nd
Hotel Breakers Cedar Point

Fall Training September 19th and 20th
Crowne Plaza Cleveland at Playhouse Square

Annual Meeting December 12th and 13th
Hilton Columbus at Easton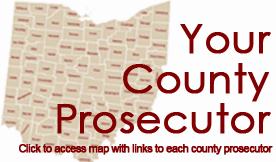 Domestic Violence Awareness - Every Month
Lou Tobin, Executive Director
For 36 years, October has been deemed Domestic Violence Awareness Month. I want to highlight a few pieces of domestic violence legislation making their way through the General Assembly.

House Bill 111, sponsored by Reps. Jeff LaRe and Kevin Miller would make felony domestic violence a "high-tier" F3 and create a presumption in favor of a prison term for the offense. This is OPAA priority legislation and is something that we have sought to change since House Bill 86 created the two tiered F3 sentencing scheme more than a decade ago. The bill was reported out of the House Criminal Justice Committee in October.

Senate Bill 100, sponsored by Sens. Nathan Manning and Nickie Antonio, and House Bill 91, sponsored by Rep. Tom Patton, address the use of tracking devices or tracking applications to monitor the movement or location of another person without their consent. These bills stem from a series of incidents where victims discovered their movements were being monitored through Apple AirTags or similar devices. At least one victim was killed by her ex-boyfriend who it was later discovered had been tracking her in this way. The legislation makes it clear that this is illegal regardless of whether the tracking constitutes a pattern of conduct as prohibited by the menacing by stalking statute. Senate Bill 100 passed the Senate in June. Both bills are now pending in the House Criminal Justice Committee.

House Bill 161, sponsored by Reps. Miranda and Hillyer, and Senate Bill 127, sponsored by Sens. Manning and Kunze, eliminate the spousal exceptions for the offenses of rape, sexual battery, unlawful sexual conduct with a minor, gross sexual imposition, sexual imposition, and importuning. Eliminating these exceptions has been a long time goal of the Ohio domestic violence community who argue that the exceptions are a relic of common law and an injustice for married victims of these offenses. House Bill 161 was reported out of the House Criminal Justice Committee in October.   

According to the Ohio Domestic Violence Network there were 112 domestic violence fatalities between July 1, 2022 and June 30, 2023 and fifty two percent of offenders had prior contact with the criminal justice system. Legislation like that above is critical reducing domestic violence and to saving victim lives.

Please consider contacting your legislators about the importance of these bills, and remember, domestic violence happens year round.
Contact your local law enforcement or the National Domestic Violence hotline at 800-799-SAFE if you or someone you know is being victimized. https://www.thehotline.org